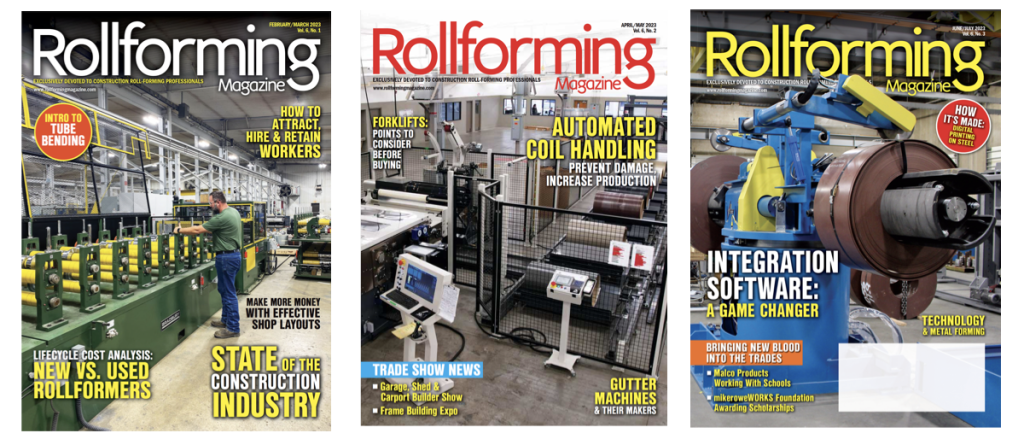 Rollforming Magazine and the Construction Rollforming Show are part of a growing network of magazines and trade shows owned by Shield Wall Media.
Rollforming Magazine is a business-to-business publication that specifically targets rollformers serving the construction industry. Launched in 2018, Rollforming has 6 issues per year. If you want to know more about stationary and portable machines; panels, gutter or trim; coil, coatings, accessories, roll-former controls and software, this is your magazine.
How is Rollforming Magazine unique?
The ONLY metal forming magazine specifically targeted at construction.
In 4 years Rollforming went from 0 to 16,000+ subscribers.
Roll forming and metal forming machinery require a significant capital investment. Companies with this machinery are typically manufacturers or large builders. These companies can buy your products in pallet, container and truck loads.
We actively seek your input. What topics in the industry need more coverage?
About Our Readers:
15,000+ subscribers
80% subscribed with the last 2 years
100% subscribed within the last 3 years
Our readers buy in pallet, container and truck rolls
55% of readers are Owner/President/Partner–Our readers are decision makers.
In Every Issue:
Industry & Supplier News
Business Connections
New Products/Product Guides
Insider Insights
Sign Up or Learn More
Learn more about Rollforming Magazine and download a free issue on its website. Click Here.
Sign up to get Rollforming Magazine free. Click Here.
Read or download the Rollforming Magazine Media Kit. Click Here.
Click on this link to learn about the best construction trade shows including the Construction Rollforming Show in September 2023.