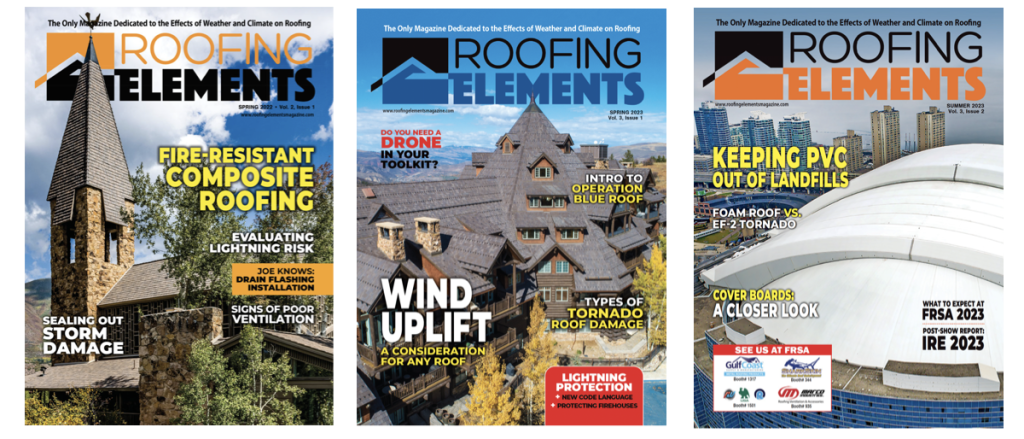 Roofing Elements Magazine is part of a growing network of magazines and trade shows owned by Shield Wall Media. Magazines also include: Rural Builder (business management magazine for rural contractors); Metal Roofing Magazine (the only publication devoted solely to metal roofing); Frame Building News (exclusively devoted to the post-frame market); Garage, Shed & Carport Builder (the new resource for manufacturers and contractors who build garages, carports and sheds), and Rollforming Magazine (exclusively for rollformers who serve the construction industry).
Simply put, Roofing Elements investigates how weather, heat, cold, wind, and other physical elements impact roofing and roofers. If you've dealt with wildfires, serious snowfall, ice dams, or severe winds, among others, you know there's a lot of power behind these natural and even man-made situations. Roofing Elements is a source for better understanding how these factors affect roofs and those doing the installing.
Launched in 2021, this business-to-business publication discusses the impact these instances can have on roofs of varying material, explore options for avoiding damage, preserving roof work and saving money, examine technical tips and best practices for installation and maintenance of roofs in light of these conditions, and review requirements and regulations influenced by the impact of varying elements.
HOW ROOFING ELEMENTS MAGAZINE IS UNIQUE:
Roofing Elements is the only publication addressing the impact natural and man-man elements can have on roofs and those handling roof installation.
The articles and information in Roofing Elements Magazine come directly from the source: industry professionals. You can trust that you are gaining expert advice and insight.
Roofing Elements helps you to uncover applicable data and details you can use to advance your business and knowledge.
ABOUT OUR READERS:
All readers of Roofing Elements have activated their subscriptions within the last 2 years.
60% of readers are contractors or roofing contractors.
55% of readers are owner/president/partner of their company.
Your advertising, be it in print or online, puts you in front of the decision makers.
Sign Up or Learn More
Learn more about Roofing Elements Magazine and download a free issue on its website. Click Here.
Sign up to get Roofing Elements Magazine free. Click Here.
Read or download the Roofing Elements Media Kit. Click Here.
Click on this link to learn about the best construction trade shows including the Construction Rollforming Show in September 2023.